The Anguilla Ferry Service To and From Anguilla is Convenient, Simple and Inexpensive
Anguilla offers both public (currently suspended) and private ferry service to and from St. Martin and St. Maarten.
See Anguilla Travel Tips for information on Departure Taxes.
For up-to-date information on ferries from St. Maarten/St. Martin to Anguilla, CLICK HERE. This information is supplied by Carimar Beach Club's resident travel agent and Anguilla expert.
Anguilla Public Ferry to and from Marigot in St. Martin
Please Note: The public ferry service between Marigot, St. Martin and Blowing Point, Anguilla is currently suspended.
The Anguilla public ferry offers service between Marigot (French St. Martin) and Blowing Point in Anguilla. The ferry runs every day in 45 minute intervals. Anguilla to Marigot hours are from 7:30am to 6:15pm and Marigot to Anguilla hours are from 8:15am to 7:00pm. The cost each way is US$20 usd per adult (ages 12 and over) and US$10 usd per child (ages 2-11). Cash only – no credit cards.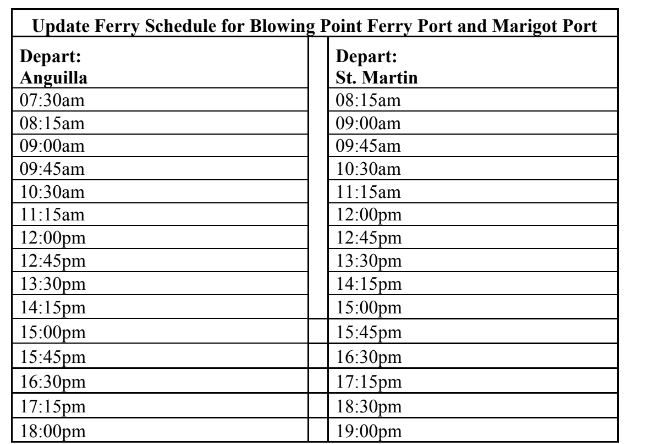 Private Ferry Service to and from the Princess Juliana International Airport in St. Maarten
Private Anguilla ferries with service to and from the new Anguilla Ferry terminal at the Princess Juliana Airport in Dutch St. Maarten include Calypso, GB Express, The Link, Funtime, and MV Shauna. Prices vary from US $60 one way and up.
Private Ferry Charters Include:
Departure Taxes to St. Martin / Marigot Ferry Terminal (French Side)
Ages 12 Years and Older: Departure Tax of US $8.00 plus US $3 Security Fee (total US $11)
Children Under 12 years: Departure Tax is free plus US $3 Security Fee (total US $3)
Ages 12 Years and Older: Departure Tax US $25 plus Security Fee of US $3 (total US $28)
Ages 5-11: Departure Tax US $12 plus Security Fee of US $3 (total US $15)
Under 5 Years of Age: Departure Tax is free plus a Security Fee of US $3 (total US $3)
Departure Taxes to St. Maarten / Princess Juliana Airport (Dutch Side)
Ages 12 Years and Older: Departure Tax of US $8.00 plus US $3 Security Fee plus US $5 to enter St. Maarten (total US $16)
Children Under 12 years: Departure Tax is free plus US $3 Security Fee plus US $5 to enter St. Maarten (total US $8)
Ages 12 Years and Older: Departure Tax US $25 plus Security Fee of US $3 plus US $5 to enter St. Maarten (total US $33)
Ages 5-11: Departure Tax US $12 plus Security Fee of US $3 plus US $5 to enter St. Maarten (total US $20)
Under 5 Years of Age: Departure Tax is free plus a Security Fee of US $3 plus US $5 to entre St. Maarten (total US $8)